Undergraduate Minor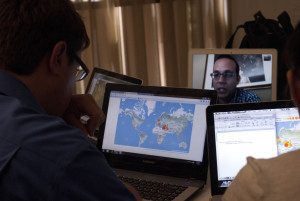 Humanities studies the big questions about human culture and society. Digital Humanities applies digital tools to the study of these big questions. With the Digital Humanities (DH) Minor, you'll learn about how technology is shaping the world, and you'll also get hands-on experience with digital tools to explore humanities questions. We value project-based learning, and our students often work in teams. Launched in 2011, the DH Minor currently enrolls about 150 undergraduates from many different majors.
In the DH Minor, you'll learn about technologies like:
3D visualization
Data visualization
Network analysis
Text-mining
Mapping
Some people start the minor with a lot of technical skills, and some people start with none. We meet you where you are, and we help you to grow from there. Our students come from a range of different majors — everyone's welcome.
In the past, our students have worked on projects like:
A digital encyclopedia of ancient Egypt
A 3D reconstruction of ancient Rome
An online exhibit of body art around the world
A map of ancient Peruvian cultures
Learning Outcomes:
Critically evaluate data, information systems, and data structures, as well as primary and secondary sources
Apply both quantitative and qualitative methods to analyze data
Employ computational methods to answer humanistic questions, and employ humanistic interpretive methods and critiques to engage with computation
Conceptualize and execute independent and collaborative digital research projects
Collaborate effectively with team members, including those in different disciplines
Communicate data analysis clearly to both specialist and non-specialist audiences
Apply basic principles of accessibility and user experience design to the creation of a digital project
Learn current, in-demand technologies, skills, tools, and scripting languages to be better equipped for the 21st century workplace
Use, critique, and build basic digital infrastructures, such as databases and archives, for Humanities disciplines
The learning outcomes for the DH program address each of the core competencies: critical thinking, information literacy, quantitative reasoning, written communication, and oral communication. Critical thinking and information literacy run throughout the program: Digital tools, algorithms, and data are never simply "givens" but rather subject to intense scrutiny: Who made them? For what ends? How are they structured? What assumptions govern how they work? In more advanced courses, students "look under the hood" and begin to modify data and tools (using, for example, APIs and open source software). Thorough documentation – in the form of project briefs, data critiques, project write-ups, and final websites – accompanies all research and learning. The capstone projects are the culmination of this process and evidence the ability to use both quantitative and qualitative methods of analysis. Capstones are project-based collaborations and require students to publicly present their projects orally at the end of the year.
Application:
We accept applications all year.  For 2020-2021, we will read applications by October 25 and April 1. Notifications will be emailed to applicants by November 1 and April 15.
Requirements
One lower-division elective, selected from our list of approved electives.
DH 101: Introduction to DH101 (usually offered in the Fall Quarter and over the summer)
DH 150: Special Topics in Digital Humanities (topics vary, so check out the Courses Page for details)
Three upper-division electives, selected from our list of approved courses.
DH 199 Group capstone class (usually offered in the Spring quarter)
Detailed information on units and requirements is available here.
What Does a DH Project Look Like?
A lot of different things! We're proud of our students' work, which includes:
What Does a DH Class Look Like?
You can see some of our course websites here:
What Do DH Minors Go on to Do?
We're still learning! Since the DH minor is new, we're taking notes as our students enter the workforce. Recent graduates are:
… and many other things, too!
Here's a graph that shows you what our alumni are doing, as of October 2015. (We're still tracking down a number of them!) These students are between zero and four years out from the program.
Contact
You're always welcome to get in touch. You can also check out our frequently asked questions.
Email: Kerry Allen (SAO)
Email is preferred, but if you need a form signed, you can stop by Royce 212 to speak to Kerry in person.
Twitter | Facebook | Flickr | Join our mailing list