Undergraduate Minor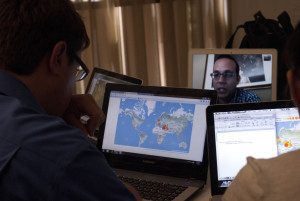 Humanities studies the big questions about human culture and society. Digital Humanities applies digital tools to the study of these big questions. With the Digital Humanities (DH) minor, you'll learn about how technology is shaping the world, and you'll also get hands-on experience in using digital tools to explore humanities questions. We value project-based learning, and our students often work in teams. Launched in 2011, the DH minor currently enrolls about 60 undergraduates from many different majors.
In the DH minor, you'll learn about technologies like:
3D visualization
Network analysis
Text-mining
Mapping
Some people start the minor with a lot of technical skills, and some people start with none. We meet you where you are, and we help you to grow from there. Our students come from a range of different majors — everyone's welcome.
In the past, our students have worked on projects like:
A digital encyclopedia of ancient Egypt
A 3D reconstruction of ancient Rome
An online exhibit of body art around the world
A map of ancient Peruvian cultures
We accept applications all year. We read them on November 1 and May 1, and inform applicants of our decisions by December 1 and June 1.
Requirements
One lower-division elective, selected from our list of approved electives.
DH 101: Introduction to DH101 (usually offered during the Fall Quarter)
DH 150: Special Topics in Digital Humanities (topics vary; usually offered during the Winter Quarter)
Three upper-division electives, selected from our list of approved courses.
DH 199 Group capstone class (usually offered in the Spring quarter)
Detailed information on units and requirements is available here.
What Does a DH Project Look Like?
A lot of different things! We're proud of our students' work, which includes:
… and many other things, too!
What Does a DH Class Look Like?
You can see some of our course websites here:
What Do DH Minors Go on to Do?
We're still learning! Since the DH minor is new, we're taking notes as our students enter the workforce. Recent graduates are:
… and many other things, too!
Here's a graph that shows you what our alumni are doing, as of October 2015. (We're still tracking down a number of them!) These students are between zero and four years out from the program.
Contact
You're always welcome to get in touch, and don't hesitate to schedule a meeting if you'd like to ask your questions in person. You can also check out our frequently asked questions.
Ashley Sanders Garcia, Ph.D.
Digital Humanities Program Vice Chair
asandersgarcia@humnet.ucla.edu
Twitter | Facebook | Flickr | Join our mailing list