Graduate Certificate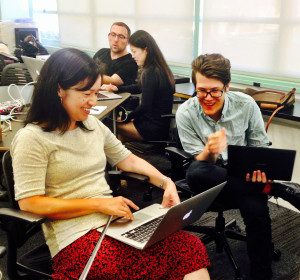 Digital technology has changed scholarly research. Scholars today work with an unprecedented abundance of materials (many of them digital), communicate with great speed, and can present their work in ways we couldn't have imagined a few decades ago.
Launched in 2011, the graduate certificate in Digital Humanities prepares students to work in the new environment of scholarly research by providing them with knowledge about the tools, methods, and theoretical issues central to the emerging field. These include text analysis, data mining, visualization, modeling and simulation, geo-spatial and mapping, multi-media storytelling, information design, network analysis, interface design.
The certificate emphasizes principles and concepts that will transfer across software programs and platforms, with the conviction that digital technologies will continue to emerge, but that certain intellectual, technical, and research design principles will remain central to this rapidly changing field.
Who Can Apply?
To enroll in the graduate certificate in Digital Humanities, you must be a currently enrolled graduate student at UCLA (in any division or department).
We accept applications all year.
For 2020-2021, we will read applications by October 25 and April 1. Notifications will be emailed to applicants by November 1 and April 15.
Requirements
DH 201: Core Seminar in Digital Humanities (usually offered during the Fall quarter).
DH 299: Graduate Capstone Seminar (usually offered during the Spring quarter).
Three graduate-level electives, selected from list of approved courses. (Two of these three can overlap with the requirements for your department.)
Creation and juried review of a Digital Research Portfolio.
DH Graduate Student Careers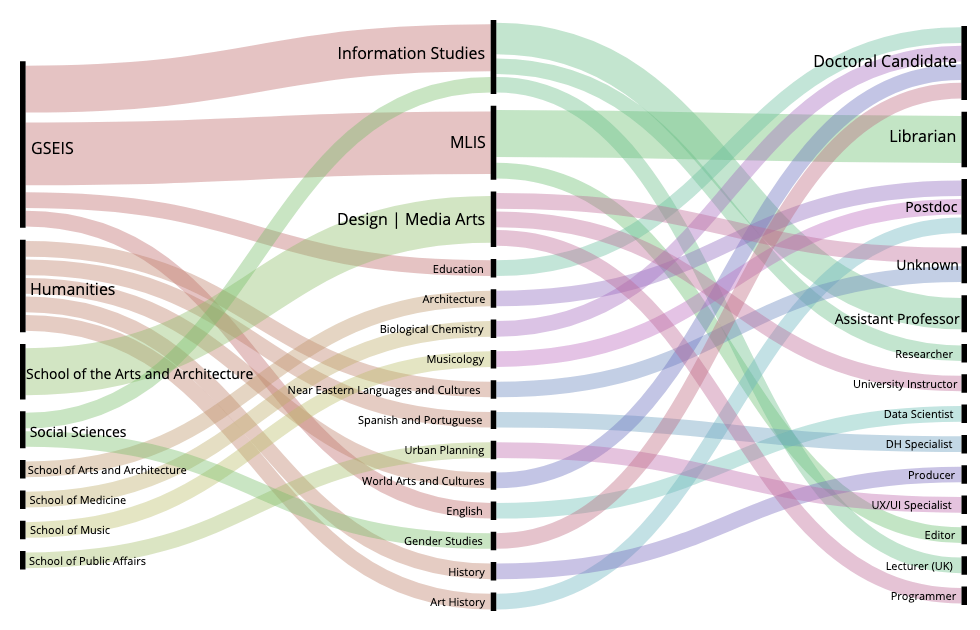 More Information
Digital Research Portfolio
Your final portfolio should demonstrate the development of your digital humanities scholarship, including significant work you've completed along the way. It may cover research, teaching, and other activities (community collaborations, for example) and must be publicly accessible on the Web. It should include both examples of your work and descriptions of how each project contributed to your evolution as a scholar. The format of the portfolio is up to you, but you might start by thinking about a WordPress site with pages describing each of your significant projects, a short biography, a CV, and a blog.
You may obtain a WordPress site from HumTech, but this site will last only as long as your time at UCLA. If you are interested in this option, contact Lucian Tucker. A preferable solution is to purchase your own domain and hosting (this costs about $60/year) and install WordPress (or your preferred content management system) yourself. Here's how.
Examples of a UCLA DH portfolios include:
Portfolio Contents: The portfolio should demonstrate critical and practical understanding of the Digital Humanities. It should contain an intellectual statement and papers and/or links to projects. In a brief introduction to each project, students should make clear exactly what role they played in group projects or individual designs.
Intellectual statement: A brief statement about work done by the student in DH and directions for future work in relation to a specific aspect of the emerging field. This vision statement should discuss – as appropriate – the student's intellectual, pedagogical, and generative contributions to digital humanities. The statement should be both precise and concise, between 400 and 600 words.
Critical understanding: Define digital humanities as you understand it, including its distinction from other fields. Describe the basic literature, trends, and developments in the field (including major projects and technologies). Include a list of references to important works and projects.
Examples of practical abilities (you will explain which ones best fit with your training, skills, and intellectual interests as a scholar):
Assessment and use of existing DH tools and platforms for repository development, etc.
Interface design and navigation
Familiarity with standard metadata schemes and their implementation
Knowledge and use of mark-up schemes
Database design and use
Network analysis software
Data mining using text analysis tools and/or statistical analysis
Visualization tools
Geospatial platforms or tools
Virtual world design or tools
Integration of social media streams
Project design and management
Scripting and/or programming
Evaluation criteria used by faculty in UCLA's DH program
The quality of work represented in the portfolio
The quality and depth of your reflections on your work
Your ability to create a coherent narrative about your work and its scholarly significance
The quality of the presentation of the work
Contact
You're always welcome to get in touch, and don't hesitate to schedule a meeting if you'd like to ask your questions in person. You can also check out our frequently asked questions.
Ashley Sanders Garcia, Ph.D.
Digital Humanities Program Vice Chair
asandersgarcia@ucla.edu