Ashley Sanders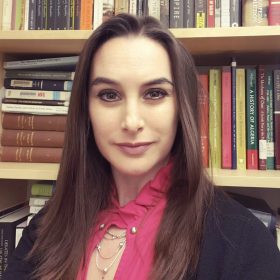 E-mail:
asandersgarcia@ucla.edu
Office: Royce 334B (Germanic Studies Lounge)
Office Hours: Tues 3-4pm | Wed 11-12:15
Ashley Sanders (she/they) is a comparative colonial historian who also holds a BS in Mathematics and Ph.D. in History. She is currently Vice Chair of Digital Humanities at UCLA. Her research brings together traditional primary source analysis and computational methods to uncover the stories, voices, and experiences of those marginalized in the past and present. Her first project, "Between Two Fires: The Origins of Settler Colonialism in the United States and French Algeria," explores the ways in which French politicians and military leaders borrowed rhetoric and policies from the American context to bolster their colonial endeavor in Algeria. Her second historical project, "Imperial Margins: Ethnicity, Gender, and Kinship in Ottoman-Algeria, 1518-1837," is the first study to examine the inner workings of Algerian society and politics from its incorporation into the Ottoman Empire through its transition to French governance through the lenses of gender, ethnicity and religion. Recent publications include "Using Network Analysis to Uncover Women's Roles in Early Modern Ottoman Algeria" in Current Research in Digital History (Fall 2020), and "Building a DIY Community of Practice" in the latest book in the Debates in DH series: People, Practice, Power: Digital Humanities Outside the Center (December 2021). Additionally, her first Digital Humanities book project, entitled Visualizing History's Fragments: New Findings in Ottoman History through Digital Humanities Research Methods is under contract with Palgrave Macmillan Press (forthcoming).
She currently offers courses on applied statistics for humanistic research, text analysis, social media data analytics, computational research capstones, and a project-based introductory DH course.
Research
Between Two Fires examines the complex relations between Indigenous peoples, settlers, military leaders, and metropolitan officials during the first two decades of conquest and colonization in the American Midwest and French Algeria. Charting the development of settler colonies in both regions, this book argues that the American and French settler colonial projects both resulted from bottom-up processes that grew out of local, personal relationships and interests on the ground in the colonies.  In this study, I examine a diverse array of source material, including military reports, political correspondence, legislation, memoirs, newspapers, and notes from Indigenous councils to compare the characteristics of each settler colony's trajectory. In its focus on the local people and events within the global, this book illuminates the often-overlooked, yet fundamental, role of Indigenous actors in shaping and bounding settler colonization, as well as the shared nature of settler colonial projects regardless of their metropolitan base. Juxtaposing these two case studies of grass-roots settler colonialism decenters the nation and relocates metropolitan officials to the margins in order to focus on the Indigenous and colonial actors who drove and negotiated the settler colonial projects on the ground. Using comparative Indigenous studies as a lens through which to view settler colonialism furthers our understanding of the fundamental processes at work and the shared nature of settler colonialism irrespective of metropolitan base.
Visualizing History's Fragments presents both methods and case studies to highlight how computational research methods may be employed to excavate and elevate the experiences of people who have repeatedly been consigned to the margins. The few extant fragments of information for the historical case study emerge from European and American travel accounts, consular records, nineteenth-century French scholarship, as well as French and Algerian chronicles of the provincial governors of Constantine, Algeria. This work combines a methodological guide, including embedded video tutorials, with an extended case study to show how digital research methods may be used to explore the ways in which ethnicity, gender, and kinship shaped early modern Algerian society and politics, but the approaches presented in this study have applications far beyond English, French and Arabic language sources and Mediterranean history. More broadly, these methods will be of use to scholars interested in identifying and studying relational data, demographics, politics, discourse, authorial bias, and social networks of both known, as well as unnamed, actors. Digital tools cannot metaphorically resurrect the dead nor fill archival gaps, but they can help us exhume the people-shaped outlines of those who might have filled these spaces.
Imperial Margins is the first study to explore the inner workings of Algerian society and politics from its incorporation into the Ottoman Empire through its transition to French governance. It builds on the work of Pierre Boyer, Charles André Julien, İ. Metin Kunt, Jane Hathaway, Christian Windler, Tal Shuval, Fatiha Loualich, Gillian Weiss, among others. It is unique in its examination of two capital cities – Algiers and Constantine – and its use of gender, kinship, ethnicity, and notions of indigeneity to understand how power flowed and functioned at the margins of Ottoman, European, and African societies in the early modern period. This study exemplifies my interdisciplinary approach by using statistical data analysis, text mining, and graph theory. The products of these techniques shed light on the ways in which local social politics influenced Ottoman officials' opportunities and efficacy at the edge of empire. Chapter one, "Ottoman Sovereignty and European Entanglements," and chapter two, "Pathways to Power: Ethnicity and Kinship in Ottoman Algeria, 1518 – 1837," examine provincial governors' journeys from their origins as Turkish volunteers, conscripted Christian subjects, or former slaves to their eventual nomination to the highest offices within the Ottoman Regency. Chapter three, "Silent No More: The Roles of Algerian Women in Provincial Ottoman Governance" argues that North African women as brides, communicators, military leaders, and political advisers, were essential links connecting Algeria to the Ottoman Empire. The fourth chapter, "Imperial Negotiations in the Early Modern Mediterranean: Algerian Women as Diplomatic Intermediaries," reveals how political wives impeded or advanced diplomacy between Algeria, the Ottoman Empire, and Europe. The final chapter explores notions of identity and indigeneity during the transition from Ottoman to French sovereignty through the lives and writings of Yusuf, a "Renegade" Jew from Livorno, and Hadj Ahmed Bey, the mixed-ethnicity last governor of Constantine.
Articles
Ashley Sanders, et. al., "Building a DIY Community of Practice," in Debates in DH: Institutions, Infrastructure at the Interstices, eds. Angel David Nieves, et. al. (Minneapolis: University of Minnesota Press, December 2021.
Ashley Sanders, "Silent No More: Women as Significant Political Intermediaries in Ottoman Algeria." Current Research in Digital History, 3 (2020). https://doi.org/10.31835/crdh.2020.05.
Joan K. Lippincott, Quinn Dombrowski, Ashley Sanders, et. al., "Building Capacity for Digital Humanities: A Framework for Institutional Planning," EDUCAUSE Center for Analysis and Research/Coalition for Networked Information (May 30, 2017). Available at: bit.ly/ECAR-DH
Ashley Sanders, et. al., "Librarians Doing DH: A Team and Project-Based Approach to Digital Humanities in the Library," Collaborative Librarianship: 9, no. 2, Article 6 (2017). Available at: bit.ly/CollaborativeDH
Ashley Wiersma, "A Study of the Teaching Methods of High School History Teachers," The Social Studies 99, no. 3 (2008): 111-116.
Dissertation
Between Two Fires: The Origins of Settler Colonialism in the United States and French Algeria
Courses
Introduction to Digital Humanities (Fall: 2018, 2019, 2020, 2021, 2022; Summer 2020, 2021, 2022)
Power and Authority on the Early American Frontier: Explorations with Text Analysis (Winter 2019, Fall 2019)
Analyzing Native American Councils Computationally (Spring 2019)
Testing Digital Historical Research Methods (Fall 2020)
Data Analysis for Social & Cultural Research (Winter 2021, Fall 2021)
Social Media Data Analytics (Spring 2019, Winter 2021, Winter 2023)
Pirates of the Mediterranean: Investigating Perceptions Past & Present through Computational Text Analysis (Winter 2022)