Undergraduate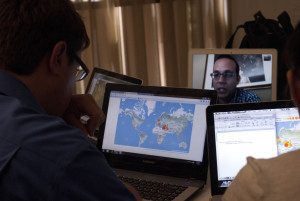 The humanities studies the big questions about human culture and society. The digital humanities applies digital tools to the study of these big questions. With the DH minor, you'll learn about how technology is shaping the world, and you'll also get hands-on experience in using digital tools to explore humanities questions. We value project-based learning, and our students often work in teams. Launched in 2011, the DH minor currently enrolls about 60 undergraduates from many different majors.
In the DH minor, you'll learn about technologies like:
3D visualization
Network analysis
Text-mining
Mapping
Some people start the minor with a lot of technical skills, and some people start with none. We meet you where you are, and we help you to grow from there. Our students come from a range of different majors — everyone's welcome.
In the past, our students have worked on projects like:
A digital encyclopedia of ancient Egypt
A 3D reconstruction of ancient Rome
An online exhibit of body art around the world
A map of ancient Peruvian cultures
We accept applications all year. We read them on November 1 and May 1, and inform applicants of our decisions by December 1 and June 1.
Requirements
One lower-division elective, selected from our list of approved electives.
DH 101: Introduction to DH101 (usually offered during the Fall Quarter)
DH 150: Special Topics in Digital Humanities (topics vary; usually offered during the Winter Quarter)
Three upper-division electives, selected from our list of approved courses.
DH 199 Group capstone class (usually offered in the Spring quarter)
Detailed information on units and requirements is available here.
What Does a DH Project Look Like?
A lot of different things! We're proud of our students' work, which includes:
… and many other things, too!
What Does a DH Class Look Like?
You can see some of our course websites here:
What Do DH Minors Go on to Do?
We're still learning! Since the DH minor is still new, we're taking notes as our students enter the workforce. Recent graduates are:
… and many other things, too!
Contact
You're always welcome to get in touch, and don't hesitate to schedule a meeting if you'd like to ask your questions in person. You can also check out our frequently asked questions.
Ashley Sanders-Garcia Ph.D.
Digital Humanities Vice Chair
asandersgarcia@g.ucla.edu
Twitter | Facebook | Flickr | Schedule a meeting | Join our mailing list
Courses
Use this DH Minor course planning checklist to ensure that you complete the program requirements.To identify courses that meet the requirements for the DH Minor:
Review the master list of approved electives. Note: "Grad" denotes graduate courses, "LD" denotes lower division, and "UD" denotes upper division courses.
Identify courses you're interested in.
Check the course schedule to see if the courses of interest are offered in the next quarter.
Register!
Lower Division (one required): Each of these classes introduces students to the use of digital tools and methodologies to examine complex cultural, social, and historical dynamics. Minors are strongly encouraged to take either INF STD 20 or 30. See the master list (linked above) for the full list of options.
Upper Division (minors must take DH 101 and 150, as well as three other upper-division electives): See the master list (linked above) for the full list of options.
Please fill out this form if you'd like to petition for an elective. Include all the information you can, including a syllabus, if available. Petitions will be reviewed at least once per quarter. Please email DHMinor [at] humnet.ucla.edu if you have additional questions.
Spring 2019
DH 150: Social Media Data Analytics
Instructor: Ashley Sanders Garcia: 
Tu/Th 9:30-10:45 in Rolfe 2118
This class will help you develop data mining and social media analysis skills using Python 3. It will also ask you to think critically about the ethical use of social media data. This is a hands-on, interdisciplinary data analytics class for those who have at least a casual familiarity with Python. If you haven't taken a course on Python, you will want to complete "Learn Python the Hard Way" tutorials ($30) or a Codecademy course ($20-$40) on Python 3 on your own before this class.  As a Digital Humanities course, it considers how social media has been used to support social justice and political change movements, the ways in which social media data is currently used by corporate entities, and engages in the discussion of ethical data usage. The course is organized around three mini-projects that involve data collection, analysis, and presentation using the techniques learned in the class.
DH 199: Analyzing Native American Councils Computationally
Instructor: Ashley Sanders Garcia: 
Wednesdays 10:00-12:00 in the Scholarly Innovation Lab (SIL) in YRL
In this capstone, students will work with Dr. Garcia on text mining early Native American treaty council notes to uncover the perspectives of Indigenous leaders and the ways in which their actions shaped the course of early American history. We will apply entity extraction, discourse analysis, and sentiment analysis methods to our primary sources and do some light reading to understand the historical context. Students will need to have some experience with Python prior participating in this capstone. We will use the Natural Language Toolkit (NLTK) for Python and SpaCy, a new Python library that allows users to create custom information extraction systems, as well as user-friendly text analysis platforms, including Recogito, Voyant Tools, and Lexos. Together, we will share the results of our collaborative research, timeline and map visualizations on a website and prepare presentation materials.
DH 199: Architectural Reconstructions on Broadway
Instructor: Anthony Caldwell & Deidre Whitmore: 
Thursdays 2:00-4:00 in the Scholarly Innovation Lab (YRL) – concurrent with Prof. López's DH 199.
The historic theaters in Downtown Los Angeles are part of a rich cultural legacy that provides insight into the architectural practices of the early 20th century. This project investigates how these monuments were constructed, decorated, and used through in-depth archival research, photogrammetric modeling, and a variety of interactive visualizations including virtual and augmented reality platforms. Students will identify a topic of interest and work in groups to produce an experience and documentation detailing their research, procedures, and process. Read more about Architectural Reconstruction on Broadway and see previous and ongoing projects.
DH 199: Visualizing 19th Century Mexican Los Angeles
Instructor: Marissa López (mklopez@ucla.edu): 
Thursdays, 2:00-4:00 in the Scholarly Innovation Lab (YRL)
Students in this 199 will come in on the very ground floor of a project to build an app that will use geo-data to display images of 19th century Mexican California relevant to a user's location.  All levels welcome, and students with mapping skills will have the chance to use those in unique ways with plenty of creative flexibility. This 199 is organized around three core questions: 1) how can we find, collect, and make available archival material that's not well catalogued or easily accessible?;  2) what stories can we tell by spatially arranging that material in various ways?; and, 3) can we design an app that tells those stories in engaging ways while also inviting users in as storytellers in their own right?